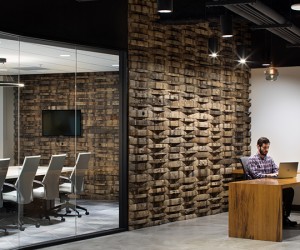 99 Barrels of Whiskey on the Wall
When Southern Glazer's Wine & Spirits sent us whiskey barrels and wine bottles to incorporate into their office renovation along with fewer instructions than IKEA gives, we decided to have some fun with them. Working alongside Dome Construction and FME Architecture, we helped bring the sense of a rural distillery to Southern Glazer's clean corporate office in Oakland.
Barrel straps, worn-out lettering, and Mother Nature gave these whiskey barrels a unique quality that steals the spotlight in their reception area. We then applied the cut off bottom two inches of the wine bottles to the face of their bar. These feature areas show how we took their rustic materials and shook them up to create a project that tells Southern Glazer's story.
Visit missionbell.com